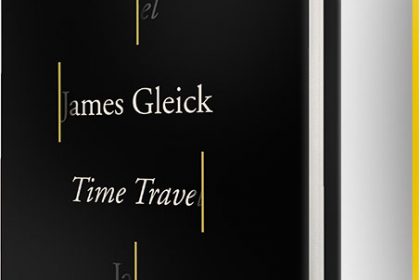 Time Travel: A History (Pantheon, 2016).
Time Travel is another of James Gleick's superb, unclassifiable books—rich in obscure and illuminating information, laced with lyricism, wit, and startling and convincing insights. It is an exploration not only of the (theoretical) phenomenon of time travel but of our understanding of 'time' itself.
—Joyce Carol Oates
---
The Information (Pantheon, 2011).
The Information is so ambitious, illuminating and sexily theoretical that it will amount to aspirational reading for many of those who have the mettle to tackle it. Don't make the mistake of reading it quickly. Imagine luxuriating on a Wi-Fi-equipped desert island with Mr. Gleick's book, a search engine and no distractions. The Information is to the nature, history and significance of data what the beach is to sand.
—Janet Maslin, The New York Times
---
Chaos: Making a New ScienceAn awe-inspiring book. Reading it gave me that sensation that someone had just found
the light switch.
—Douglas Adams
Now available as an e-book.
---

Genius: The Life and Science of Richard Feynman (Pantheon, 1992). A rare, jewel-like biography… terrifically readable. It achieves an almost perfect balance between

the physicist's work and his life… Gleick is a consummate craftsman.
—Washington Post Book World.
Now available as an e-book.
---
Isaac Newton (Pantheon, 2003). A masterpiece of brevity and concentration. Isaac Newton sees its angular subject in the round, presenting him as scientist and magician, believer and heretic, monster and man…. It will surely stand as the definitive study for a very long time to come. Fortunate Newton!
—John Banville, The Guardian
---
What Just Happened: A Chronicle from the Information Frontier (Pantheon, 2002). A marvellous journey around our technology-drenched world…. The work of a master.
—The Independent
---
Faster: The Acceleration of Just About Everything (Pantheon, 1999). In years to come Faster will tell people what we were like as clearly as Dickens or Tom Wolfe.
—Patricia Volk, The New York Times.